When considering the right search tool on Sitecore for your organisation, there are a number of things you should take into consideration. We recommend evaluating the pros and cons of each, as well as making sure it will deliver the outcome for the business that you're ultimately looking for.
---
If you're comparing Microsoft Azure and Apache Solr, we're here to help.
Dataweavers wholeheartedly recommends the use of Azure Search to power the Search requirements for any Sitecore PaaS deployment. Sitecore utilises search for two distinct areas of the platform; Content & Analytics. It is also important to note that Sitecore requires search indexes as an internal requirement, regardless of whether you choose to implement a search function on your website.
Content Search
Sitecore indexes content to enable fast access to content within the user interfaces of Sitecore. It also allows developers to query the search index when building bespoke Sitecore components. This can be used to not only query Sitecore for items, but also when building and designing interfaces for end users who wish to search for content.
Sitecore 9.0.2 has support for index switching on full rebuild which enables search to be fully functional during an index rebuild.
Analytics
Sitecore indexes significant amounts of contact and analytical data in order to compute and present information to marketing users, this includes the Experience Profile, Experience Analytics, List/Segment Manager and Marketing Automation. You cannot avoid these fundamental dependencies and they are required to ensure Sitecore works correctly.
It is these search indexes that are commonly overlooked in Sitecore deployments and lead to issues such as slow analytics and email dispatches, inconsistent list indexing and in some cases, total environment failure.
Azure Search vs. Solr.
Solr is an alternative search provider to Azure Search and we've broken down the pros and cons of each here for you.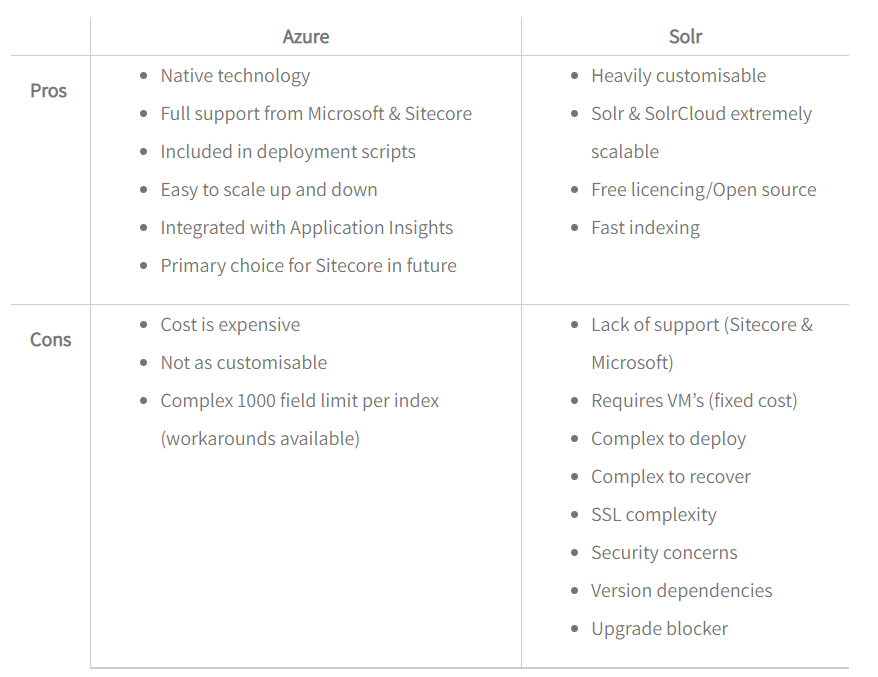 If you're having trouble picking a search tool for your Sitecore Platform – or are having trouble with your current implementation and would like some advice, please get in touch today and see how we can help.